With over 33 greenhouses and outdoor hardening areas, Tropical Star is outfitted to provide the best growing conditions for a wide variety of fruit and vegetable seedlings. Beyond the plants we produce for farms in the Southwestern US, we provide adjacent services to help our customers.
FRUIT and VEGETABLE SEEDLINGS
We have grown up to 100 varieties of fruits and vegetables, some of which include: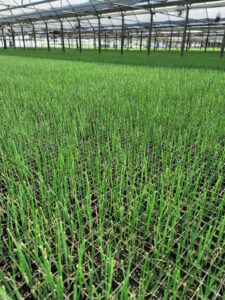 HAND PROPAGATION
We also specialize in hand propagation of cuttings for transplants requiring specific growing conditions, as well as daily monitoring for proper fertilization and irrigation to grow optimal root masses.
CITRUS TREE SEEDLINGS
Citrus tree seedlings require specialized expertise to grow a premium grafted tree before they are ready to be planted in the orchards. We are a certified grower and have dedicated greenhouses specifically for citrus tree production. 
TREE SEEDLINGS FOR REFORESTATION
We have grown tens of millions of tree seedlings for reforestation and restoration. Using nursery-produced seedlings is often the most reliable way to ensure successful establishment and rapid growth of native plants. We stratify and germinate seedlings depending on the native environmental conditions where the trees are planted.